May 2013 Book Review
Garden Club of South Carolina
As I sit at my desk that looks out on our back yard and its garden, I cannot help but reflect on what we have accomplished and have yet to look forward to.  Mother Nature has finally allowed spring into our lives.  The Lady Banksia yellow rose is finally climbing and blooming in the tree to which it has been introduced.  My grandfather's white irises (from Mississippi) have taken up residence in Mt. Pleasant and are in bloom.  Now I await his antique roses with crossed fingers.  What a wonderful time of the year!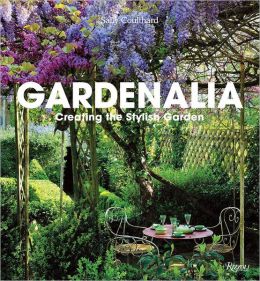 The book I have chosen to review for May is Gardenalia, Creating the Stylish Garden, by Sally Coulthard.  It was published by Rizzoli International Publications, Inc. in 2012.  The author is English and is well known for her creative approach to the world of gardening. 

This book will help fill your summer months with a huge bunch of new ideas.  Our gardens have become an extension of our living spaces; this book embraces that idea and guides the reader to look at the garden in a new light.  It is a beautiful book and keeps the reading gardener's attention, just wondering what she has up her sleeve next. 

Get on the computer and order your copy, or go book shopping.  It is available at many locations for all to enjoy.
Have a great summer, and let me know what you think of Gardenalia.       
Fondly,
Minnie Mayberry,
GCSC Website Chairman
Garden Book Review